MyLanViewer Network/IP Scanner is a powerful IP address scanner for local area network (LAN). This application will help you find all IP addresses, MAC addresses and shared folders of computers on your wired or wireless (Wi-Fi) network. The program scans network and displays your network computers in an easy to read, buddy-list style window that provides the computer name, IP address, MAC address, NIC vendor, OS version, logged users, shared folders and other technical details for each computer. It is able to monitor your external IP address and send email notifications when it changes. MyLanViewer Network/IP Scanner can also turn on and off remote computers, view and control your shared folders, terminate user sessions, show netstat information , detect rogue DHCP servers and other network tools. The software can monitor all devices (even hidden) on your subnet, and send alerts when the new devices will be found (for example, to know who is connected to your WiFi router or wireless network). The program easy to install and use, and has a user-friendly and beautiful interface.

How to see who is connected to your wireless (Wi-Fi) network (router) with MyLanViewer Network/IP Scanner

| | |
| --- | --- |
| | (Version: 6.0.5, Size: 4,38 MB) |
System requirements:
Windows XP, Vista, 7, 8, 10, 11, 2000, 2003, 2008, 2012, 2016, 2019, 2022. 32-bit or 64-bit. Net Framework is not required.

To update a previous version of the program just download the current version and install it on top of the previous version (there is no need to uninstall the previous version, just close the program at the time of installation).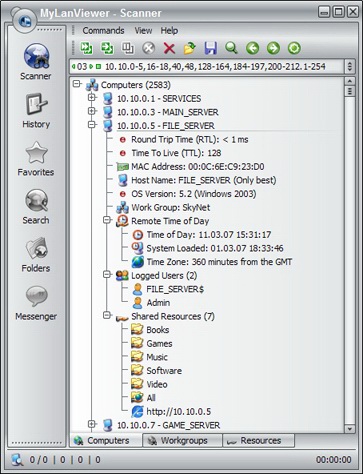 Other products